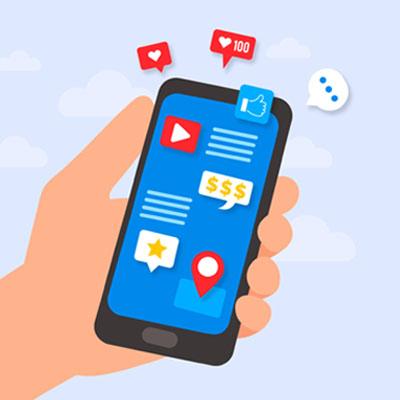 Mobile App Development
DishaLive Web Design and Solutions is a leading provider of mobile app development services. Our team of experienced developers and designers are dedicated to creating high-quality, user-friendly mobile apps that help businesses achieve their goals and meet the needs of their customers.
We understand that mobile app development is a complex process that requires a wide range of skills and expertise. That's why we offer a comprehensive range of services, from initial concept development and design, to coding, testing, and deployment. We also have a deep understanding of the latest technologies and platforms, including iOS and Android, and can create apps that are optimized for both.
Our mobile app development services include:
Concept Development : We will work with you to understand your business goals and target audience, and help you develop a clear concept for your mobile app.
Design : Our team of designers will create visually stunning and user-friendly designs that reflect your brand and appeal to your target audience.
Coding : Our team of developers will use the latest technologies and platforms to create high-quality, stable code that is optimized for performance and scalability.
Testing : We will thoroughly test your mobile app to ensure that it is free of bugs and functions as expected on a wide range of devices.
Deployment : We will help you deploy your mobile app to the app stores, and provide ongoing support and maintenance to ensure that your app stays up-to-date and runs smoothly.
Cross-Platform App Development : We can develop apps that can run on both iOS and Android platforms by using technologies like React Native, Flutter, Xamarin etc.
IoT App Development : We can also develop IoT apps which connect various devices and control them through a single app.
AR and VR App Development : We can use the latest technologies like ARKit, ARCore, Vuforia to develop AR and VR apps.
At DishaLive Web Design and Solutions, we understand that a mobile app is more than just a piece of software – it's a key part of your overall business strategy. That's why we take a holistic approach to mobile app development, focusing on creating apps that are not only functional and visually appealing, but also aligned with your overall business goals.
We are committed to delivering high-quality mobile app development services that help our clients achieve their business objectives. Whether you're looking to create a simple, single-purpose app or a complex, multi-featured app, we have the skills and expertise to help you succeed.
If you're ready to take your business to the next level with a custom mobile app, contact us today to learn more about how we can help. With our experienced team and cutting-edge technologies, we can create a mobile app that will help you stand out in the crowded app stores, and drive more business to your company.