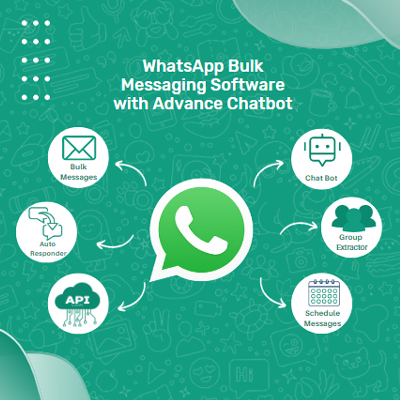 WhatsApp Bulk Messaging Software with Chatbot & Buttons Panel
DishaLive Web Design and Solutions is excited to offer our clients a cutting-edge online WhatsApp bulk messaging software, WhatsApp chatbot with advanced features, and WhatsApp API. Our innovative solution allows businesses to communicate with their customers on a whole new level, enabling them to reach a larger audience, improve customer engagement, and drive sales.
Our Online WhatsApp Bulk Messaging Software is a powerful tool that allows businesses to send large volumes of messages to customers in a short period of time. This software is perfect for sending promotional messages, updates, and alerts to a large customer base. It is easy to use and can be customized to suit the specific needs of your business. With our bulk messaging software, you can reach thousands of customers in a matter of minutes, saving you valuable time and resources.

Our WhatsApp Chatbot is a sophisticated AI-driven tool that allows businesses to automate customer interactions and provide instant responses to customer queries. Our chatbots are designed to understand natural language and respond to customer questions and requests in a conversational manner. They can also be programmed to perform specific tasks, such as booking appointments, taking orders, and providing product or service information. With our chatbot, you can provide 24/7 customer service, even when your business is closed, increasing customer satisfaction and loyalty.
Our WhatsApp Transactional Message API is a powerful tool that allows businesses to send automated, personalized messages to customers. These messages can be triggered by specific events, such as a purchase, registration, or appointment booking, and can include information such as order confirmations, appointment reminders, and shipping updates. Our transactional message API is fully customizable and can be integrated with your existing systems and platforms, such as e-commerce platforms, CRMs, and appointment scheduling systems.
At DishaLive Web Design and Solutions, we understand that every business is unique and has different messaging needs. That's why we work closely with our clients to understand their specific goals and requirements, and tailor our solutions to meet their needs. Our team of experts is always available to provide support and guidance, ensuring that our clients get the most out of our WhatsApp messaging solutions.
In addition, we also provide WhatsApp Business API integration services for various use cases like:
Customer support
Lead Generation
Order tracking
Payment gateway integration
And more
Don't miss out on the opportunity to use WhatsApp as a powerful communication channel for your business. Contact us today to learn more about our WhatsApp messaging solutions and how they can help you reach and engage your customers in new and effective ways.